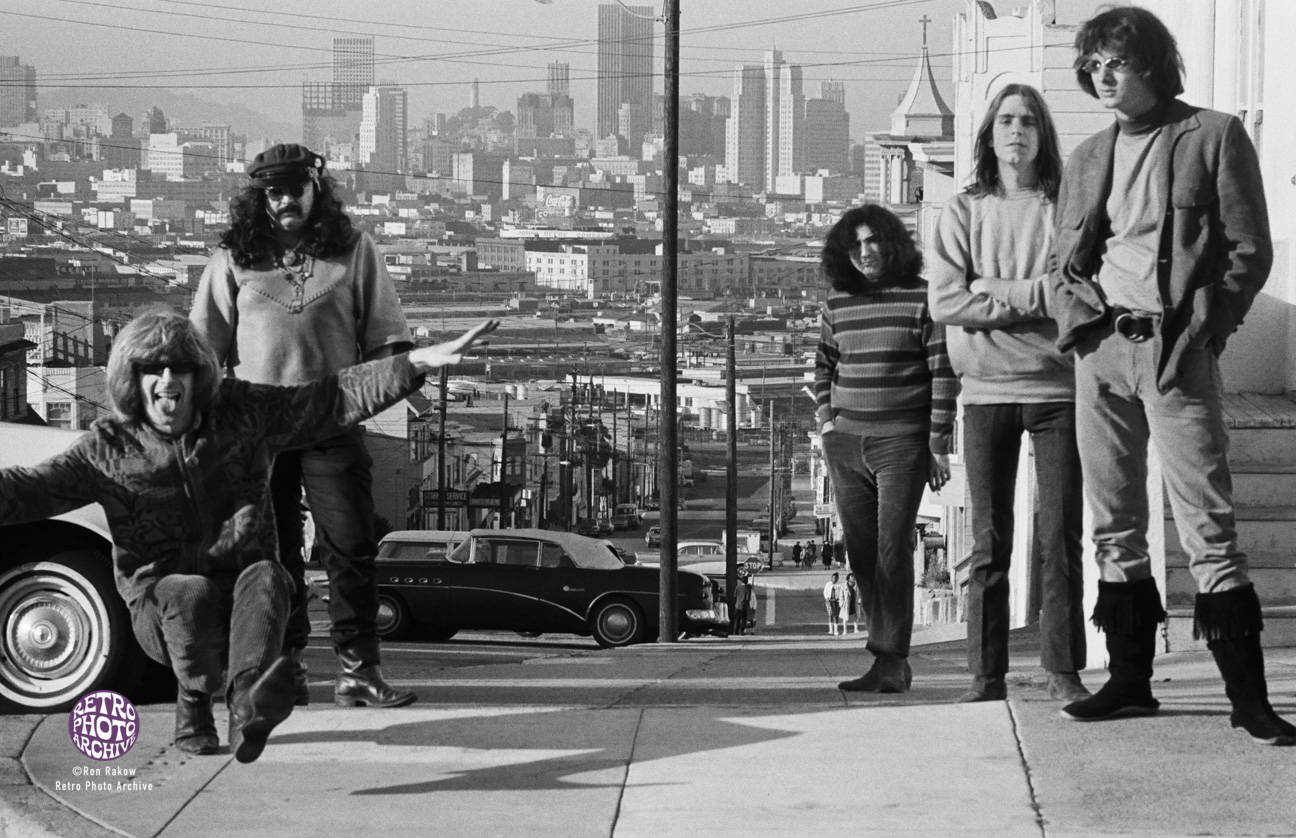 Between the Dark and Light, The Grateful Dead 1965-1995
The Haight Street Art Center is proud to present "Between the Dark and Light: Grateful Dead 1965-1995," which will run from July 12 through September 3, coinciding with the final three Dead & Company concerts, to be held at Oracle Park on July 14, 15, and 16.
The exhibition is made possible in part by the generous Haight Street Art Center sponsors Alex B, the Haight Street Voice, Relix Magazine, Anchor Steam, Grateful Guitars, and, Humboldt Family Farms featuring Full Moon Farms.
A very special exhibition preview and opening reception will take place on the evening of July 11 from 5-9pm. Opening Night will feature the sounds of Scott Guberman, a Bay Area keyboardist with a deep passion for the music of the Grateful Dead. The Art Center will host a live screen-printing demo and poster giveaway, and all Opening Night attendees will go home with a sponsor goodie bag.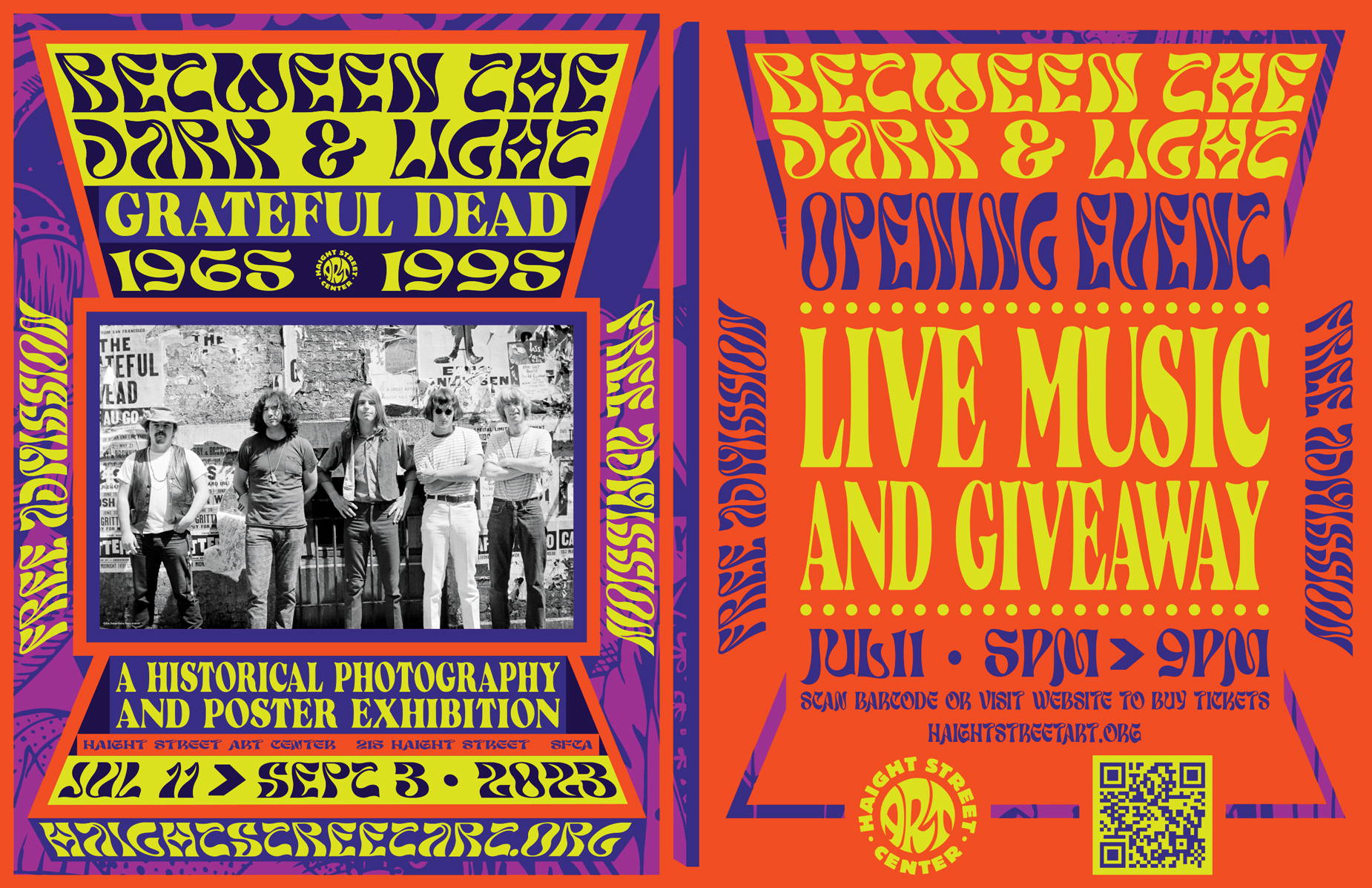 Haight Street Art Center would like to thank following generous sponsors who made this exhibit possible:

Roger and Ann McNamee
David Bader     Alex B.     jean sokora     Julia Postel     Lourdes Livingston  
The Blue Rocker     Edwin Stahlnecker     Papa John and Gma June     Ernesto
A limited-edition, commemorative Grateful Dead-themed exhibition poster and handbill designed by Caitlin Mattisson and silkscreened in Haight Street's studio will be available for purchase.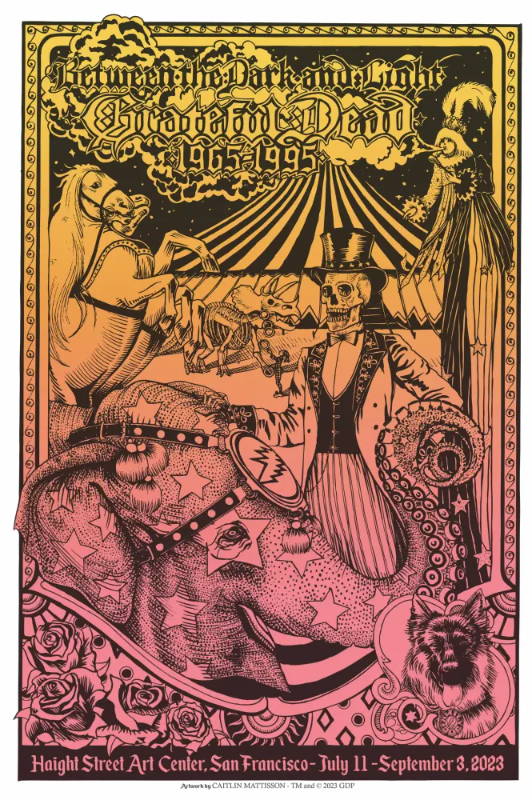 Curated by acclaimed rock photographer Jay Blakesberg, with exhibition text by Grateful Dead historian Blair Jackson, "Between the Dark and Light" follows the Dead from the halcyon days of the Haight-Ashbury through the untimely death of its lead guitarist, Jerry Garcia, in 1995.
Along the way, Blakesberg and Jackson take viewers to free concerts in Golden Gate Park, New Year's Eve shows around the Bay Area, the October 1974 Winterland shows that were filmed for what would become The Grateful Dead Movie, the band's legendary performances in Europe and Egypt, and their historic runs in 1980 at the Warfield in San Francisco and Radio City Music Hall in New York City, to name just a few. Rounding out the exhibition are a number of key rock posters from the Haight Street Art Center's collection that show the evolving visual style of poster art that defined the three-decade career of the Grateful Dead, and still inspire poster artists to this day.
"We are thrilled to collaborate with Jay to host this extraordinary collection of photographs that capture the musical and cultural journey through the Grateful Dead's career," said Kelly Harris, the Haight Street Art Center's Executive Director. "When combined with posters from the Art Center's permanent collection, the exhibition poignantly tells the story of a Bay Area treasure that came of age during the golden age of San Francisco's Haight-Ashbury."
To tell these stories, Blakesberg dug deep into the Retro Photo Archive, curating almost 100 rarely seen images of the band alongside dozens of iconic images by visual chroniclers of the Dead, including Adrian Boot, Alvan Meyerowitz, Andy Leonard, Baron Wolman, Bob Minkin, Dave Seabury, Ed Perlstein, Elizabeth Sunflower, Greg Gaar, Herb Greene, Jonathan David Sabin, Mark Norwine, Mary Ann Mayer, Michael Dobo, Patti Healy, Ron Rakow, Rosie McGee, Snooky Flowers, and Susana Millman, as well as Blakesberg"s own work.
"The Grateful Dead has always allowed fans to bring cameras into their concerts," Blakesberg says, "which has left us Dead Heads with a vast photographic history of this band. Some of us started our careers photographing the Grateful Dead, myself included. The photographs on display show the band on and off stage, and create a wonderful historical look at the band's 30-year career."
"What a great trip it is to see the Dead's incredible journey told through so many rare or never published photographs, as well as iconic images by some of the best photographers who documented the Grateful Dead experience," Jackson says. "From the group's humble beginnings to its shows in football stadiums packed with dancing Dead Heads, the contours of the Grateful Dead story really come alive in new and exciting ways on the walls of the Haight Street Art Center."
The Haight Street Art Center serves San Francisco's thriving poster art and artist communities with education and cultural development programs, and exhibitions. Drawing upon music, art, social and political counterculture history, we provide a space that bridges communities through social activism and artistic expression.
Our gallery will be open special hours, 11am- 7pm, July 12th-July 17th for "Between the Dark and Light" scheduled events.